The Latest NGD Systems News

Product and Solution Information, Press Releases, Announcements
Edge Compute and NVMe Computational Storage – AWS Greengrass
Posted: Tue Oct 06, 2020 03:25:54 PM

What happens when you bring two great technologies together in a truly innovative way? You achieve success in ways never before thought of. In this case, we took time to work with Amazon Web Services (AWS) and integrated their IOT Greengrass core into our devices to allow for localized data management and storage devices that can interact directly with the cloud. Want to know more? Let's review the platforms being used.
AWS IoT Greengrass
AWS IoT Greengrass seamlessly extends AWS to edge devices so they can act locally on the data they generate, while still using the cloud for management, analytics, and durable storage. With AWS IoT Greengrass, connected devices can run AWS Lambda functions, Docker containers, or both, execute predictions based on machine learning models, keep device data in sync, and communicate with other devices securely.
With AWS IoT Greengrass, you can use familiar languages and programming models to create and test your device software in the cloud, and then deploy it to your devices. AWS IoT Greengrass can be programmed to filter device data, manage the life cycle of that data on the device, and only transmit necessary information back to AWS. You can also connect to third-party applications, on-premises software, and AWS services out-of-the-box with AWS IoT Greengrass Connectors. Connectors also jumpstart device onboarding with pre-built protocol adapter integrations and allow you to streamline authentication via integration with AWS Secrets Manager.
AWS Greengrass Without NGD Systems Computational Storage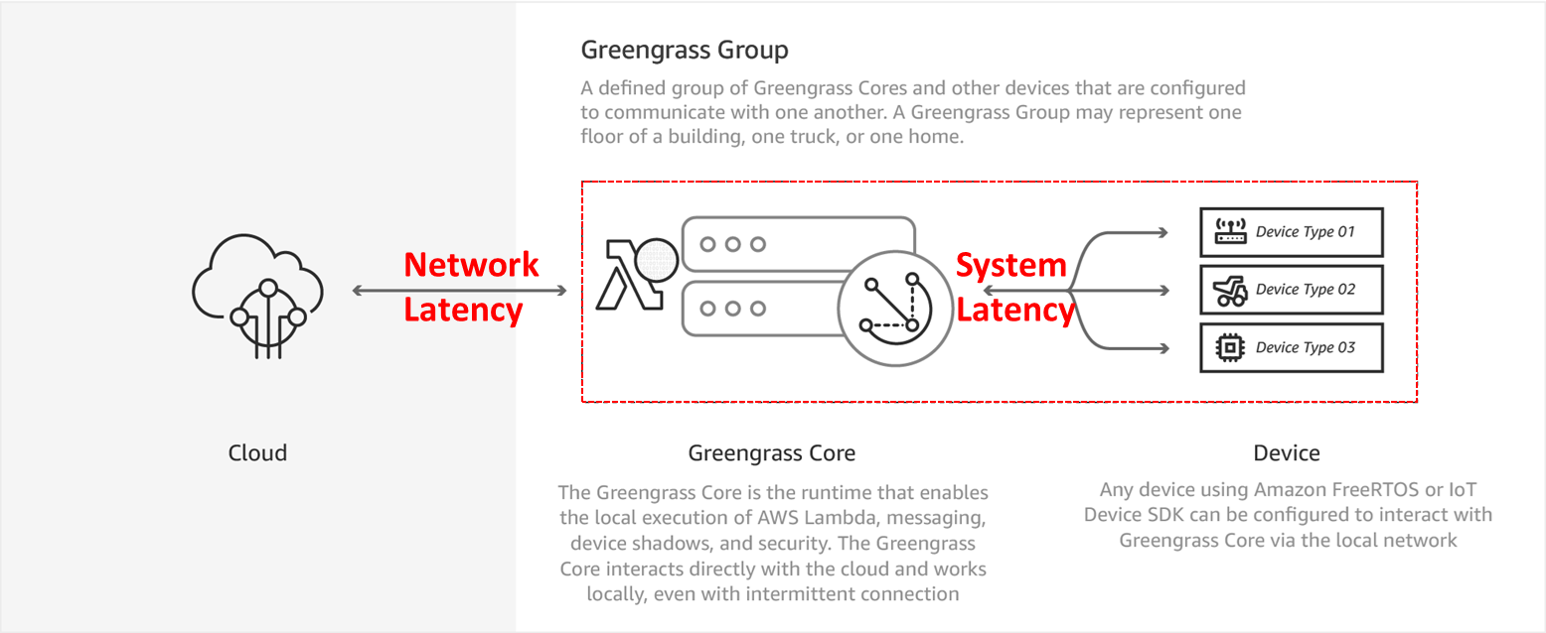 NGD Systems Computational Storage Platform
NGD's Computational Storage Drive (CSD) features an embedded processing system based on a quad-core 64-bit Armv8 application processor, running a Linux Operating System and fully dedicated to executing user applications. The Newport CSD is the first commodity SSD that can be configured to run a server-like operating system (e.g., Linux) enabling application developers to fully leverage high-level programming languages, existing tools and libraries to minimize the effort for creating and maintaining applications running inside the storage device. This also allows application developers to easily port complex applications already running on host operating systems to the device with minimal or no code changes.
Because NGD computational storage devices (CSDs) can run the AWS Greengrass locally, we enable customers an efficient and slick design for an edge compute system.
AWS Greengrass With NGD Systems Computational Storage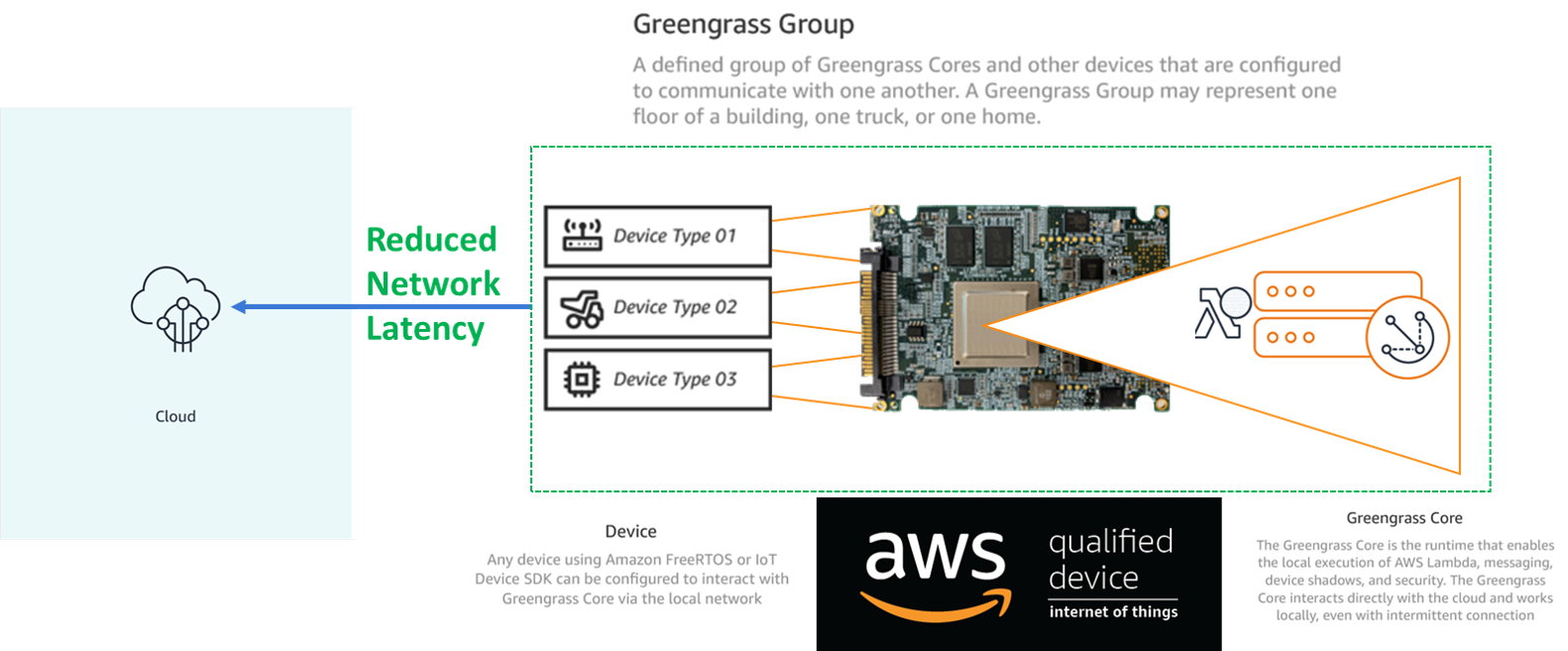 What does this look like at scale? Let's blow this idea up to a larger use case, where multiple drives are being used by multiple systems and the value can truly be seen in this innovative, yet simple to implement design change.
NGD Newport In-Situ integration with AWS Cloud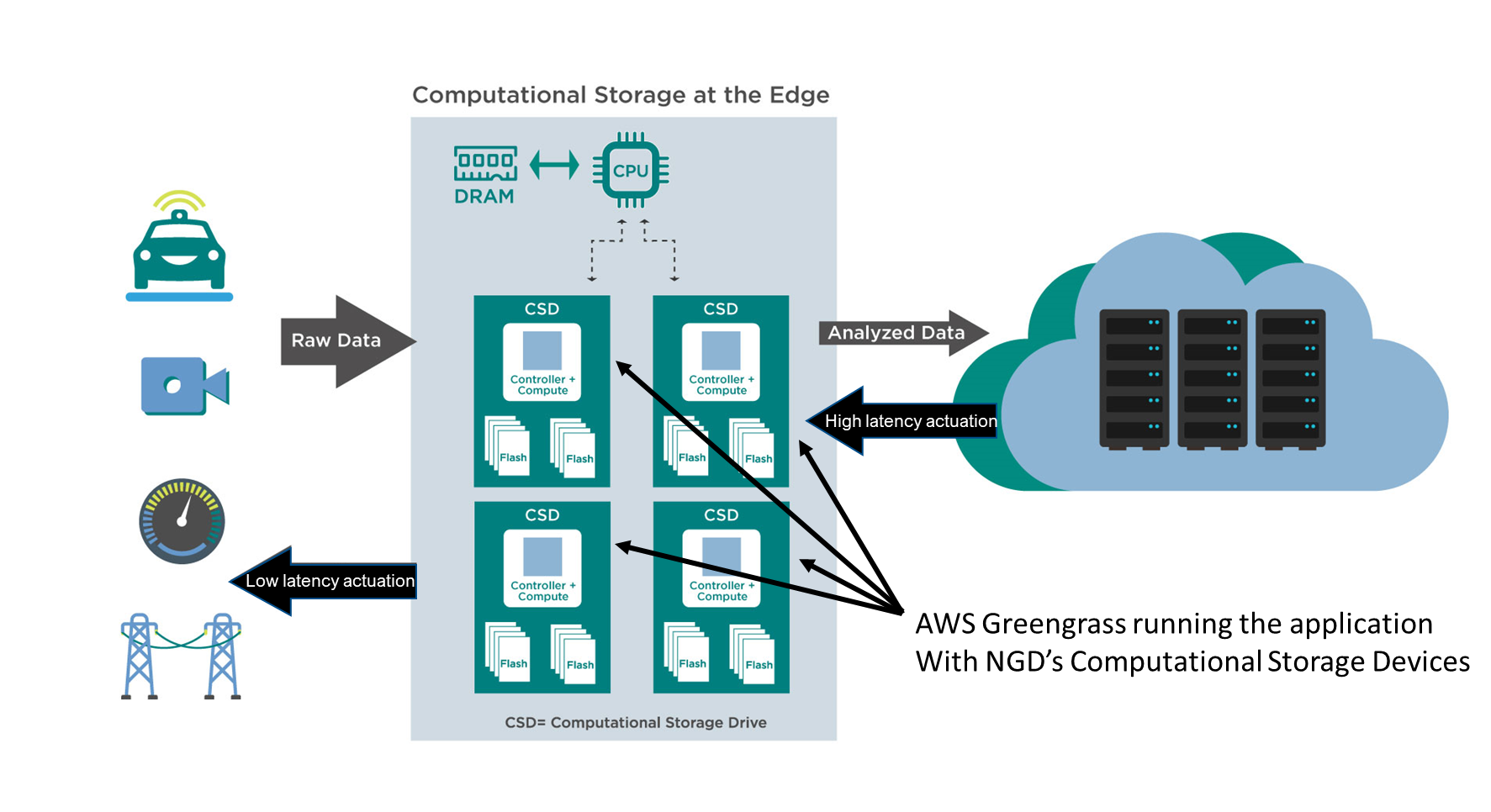 NGD Newport In-Situ Running AWS Greengrass locally on the storage within the edge compute
Computational storage enables complex applications such as machine learning to be executed in-storage where data resides. Leveraging a seamless programming model based on a Linux OS and high-level programming languages, NGD's solution enables higher capacities, higher energy efficiency and much lower TCO and can be deployed in edge compute products.
NGD is revolutionizing the edge and distributed cloud with its unique Computational Storage solution that enables in-storage near-data processing.
Orignal Post by NGD Systems